UNIQUE FEATURES SET AALADIN APART FROM THE COMPETITION
AaLadin's Molded Bucket Insulation System is another advancment made to increase effencieny and servicability. This one-piece design insures that anytime the burner pumps fuel without firing, the bucket does not become a sponge becoming saturated with fuel resulting in a costly repair.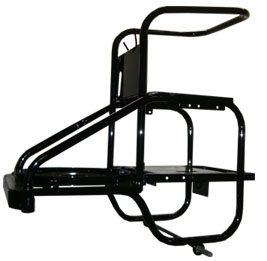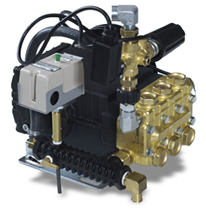 Designed to simplify service, AaLadin's Manifold Plumbing System allows the components to be removed in minutes no matter how serious the repair. This saves time and lowers the cost of repair, while getting you back to work faster.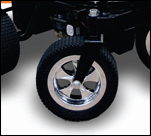 You no longer have to find your air pump to refill flat tires before using your pressure washer. AaLadin's Flat-Free Tires provide mobility on demand. While the Swiveling Front Tires provide true 360° maneuverability.
AaLadin Pressure Washers are manufactured with only Heavy Duty Steel Frames that are welded together and powder-coated for rigid, long-lasting durability. Unlike modular frames that bolt together and inevitably loosen providing a space for water and rust. Just another way AaLadin decreases maintanence costs and saves you money.
Aaladin's Exclusive Patented Exchange Technology uses up to 38% less fuel than standard hot water pressure washers saving you money for extended cleaning time. This Eco-Green® advantage is good for your business and for the environment. AaLadin's full line of pressure washers are available through AaLadin Central your Authorized Aaladin Distributor.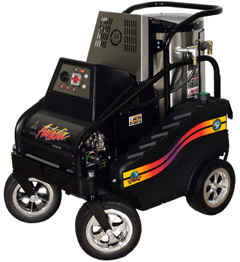 AaLadin has perfected their Clutch Drive Pumping System. Pump bypass is the most common problem with pressure washers as it only takes five minutes for seal wear and ceramic piston fractures to occur. AaLadin integrates a clutch to activate the pump through a micro-switch operated unloader valve. The micro-switch is sensitive enough that when the trigger gun is engaged flow is instantaneous, while the simple release of the trigger disengages the pump immediately. This system makes pump wear and failure a problem of the past.
WELDED FRAMES = SOLID CONSTRUCTION
MOLDED BUCKET INSULATION SYSTEM
MANIFOLD PLUMBING SYSTEMS
CLUTCH DRIVE PUMPING SYSTEMS
ECO-GREEN® EXCHANGE TECHNOLOGY